From festive specials to traditional and down-right bonkers, we've rounded-up the best quiz nights Birmingham that could land you some seriously cracking prizes.
FESTIVE SPECIALS
Christmas Bingo & Quiz | The Old Crown, Digbeth | December 11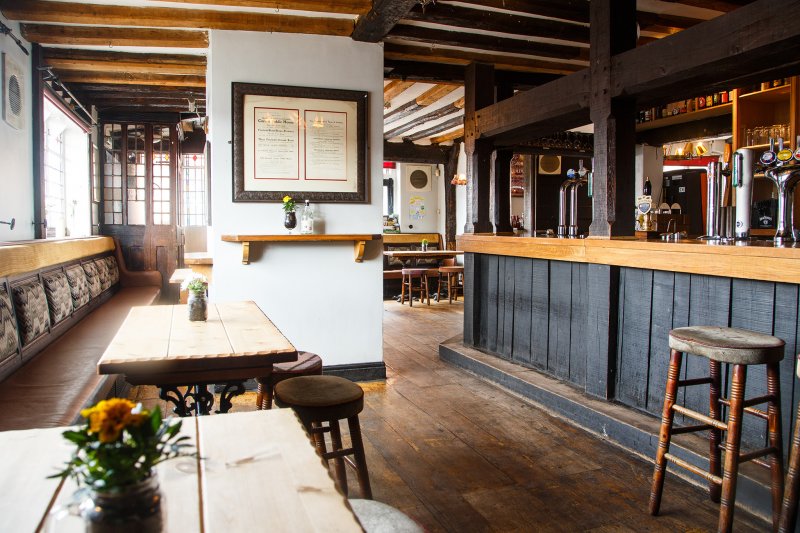 The Old Crown in Digbeth is no stranger to hosting a quiz or two and this Christmas, the popular watering hole is getting in the festive spirit with a big fat Christmas quiz.
With categories including from Christmas TV & Films through to Impossible Questions, teams with the sharpest knowledge could get their hands on some fantastic prizes ranging from a £50 bar tab to a Terry's Chocolate Orange. The Old Crown also has a huge outdoor covered seating area and serves up some pretty tasty grub!
Kicking off at 7pm on Wednesday, December 11, tickets are priced from £5 per person, including nibbles. So grab your Christmas jumpers and book your tickets here!
Harry Potter Christmas Quiz | The Prince of Wales, Moseley | December 17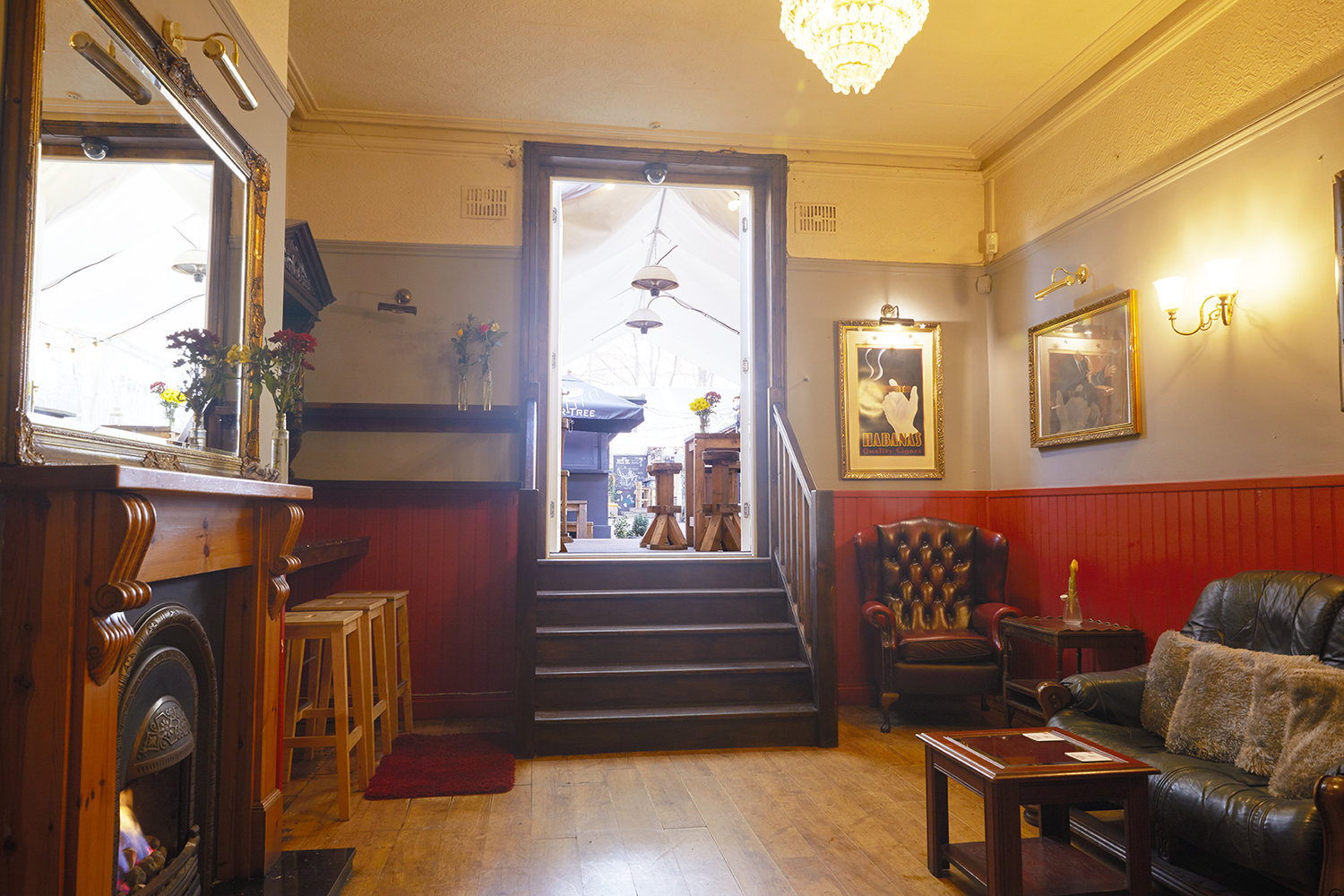 Muggles, unite! The Prince of Wales' Harry Potter Christmas Quiz is back and set to put your knowledge of the Wizarding World of The Boy Who Lived to the test.
At £2 a head, maximum teams of six can enter and enjoy a night under a magical marque for the chance to win some fantastic prizes. Alongside the quiz, you'll be able to fill your bellies with delicious street food, hot drinks, beers and wine before your Potter skills are put to the test.
Tickets flew out the door last year, so you'll need to be quick to secure yours if you think you know your stuff. Click here to book yours now.
Weekly Stars
Actress & Bishop | Ludgate Hill | Tuesdays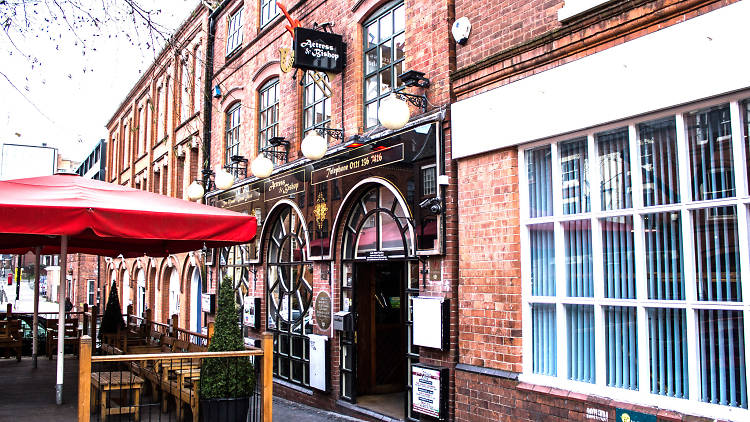 No-one's really a huge fan of Mondays, but the Actress & Bishop tries to make them a little less blue with its weekly Big Quiz.
Hosted by Jamie Cartwright, the quiz kicks off at 8.30pm and the winning team could get their hands on a cash prize. Entry costs £2 per person, so make sure you book your team in to get a table, as this quiz night is quite popular. Click here to secure your spot and find out more.
Hare & Hounds | Kings Heath | Wednesdays
As well as being one of the city's most treasured independent music venues, the Hare & Hounds also hosts some pretty epic quiz nights.
Taking place every Wednesday, you can expect some classic general knowledge questions fired your way alongside some pretty unusual ones such as: What is the only London Underground station with a single syllable?
If you're up for it, tickets cost £2 per person with maximum teams of six. So gather your pals, grab a pint and get ready to battle it out for prizes including £75 for first place, a £20 bar tab or tickets to a Hare & Hounds gig.
Check out upcoming quizzes at the Hare & Hounds and book tickets here.
The Wolf |Consitution Hill | Every month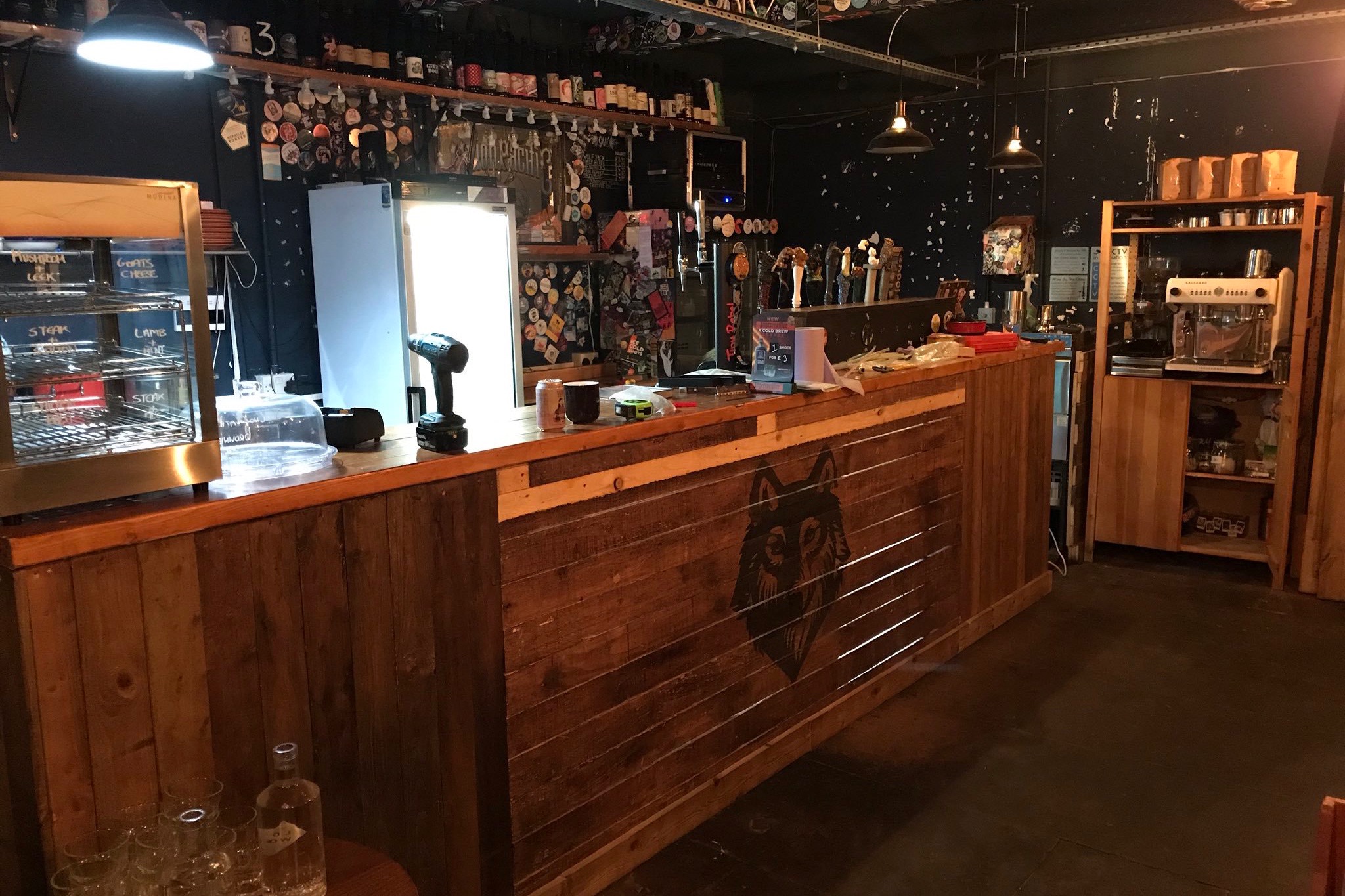 Not only does this place serve one heck of a cheeseboard and a great selection of craft beers, ales and ciders, every second Wednesday of the month The Wolf holds a pub quiz with questions designed to get those cogs turning.
From general knowledge to a couple of extra tricky questions, for just £1 per person, you and your team – maximum of six – could win prizes including a £30 bar tab and some great beer-related prizes.
Following the rules of a traditional pub quiz, no phones are allowed, so don't try cheating! The quiz kicks off at 7.30pm on the dot. Click here to find out more.
BIG BANG Pub Quiz | One Trick Pony Club, Moseley | Wednesdays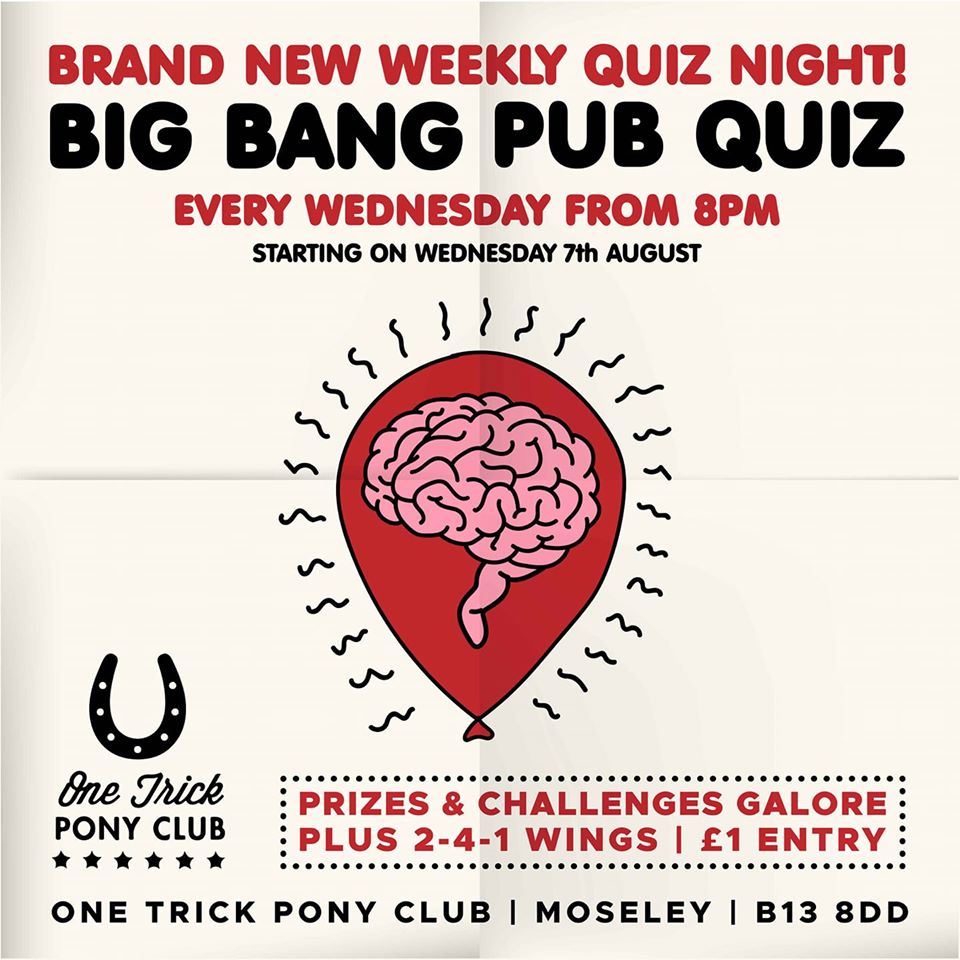 It's safe to say that we don't know too much about the BIG BANG Pub Quiz, but what we do know sounds pretty intriguing… and hilarious.
Held at Moseley's One Trick Pony Club, this twist on a traditional pub quiz involves balloons, cash prizes and a dash of forced fun for good measure.
It's held every Wednesday, which is great news if you like chicken wings, as it goes hand-in-hand with One Trick's 2-4-1 Wing Wednesday. Follow BIG BANG on Twitter for more info.
The Lord Clifden | Great Hampton Street | Thursdays
Every Thursday night at The Lord Clifden is quiz night! The popular watering hole on Great Hampton Street hosts a 10-week Quiz League hosted by Stoo Pittway.
Unlike The Wolf's traditional rules, The Lord Clifton's quiz night swaps out pen and paper. Teams are required to download the SpeedQuizzing app and answer all questions on their phone – this doesn't mean you're allowed to cheat though!
Starting at 8.30pm, you've got time to grab a bit to eat from The Lord Clifden's delicious menu before taking part in the smartphone quiz. Entry costs £2 per person with cash prizes up for grabs. Find out more by clicking here.