While I'm sure many would argue that the words "Thai" and "tapas" shouldn't really be in the same sentence, the idea is one that certainly appeals to me. I mean, I love Thai food and I love the idea of tucking into a few different tapas plates. Put them together and Giggling Squid is right up my street.
I'd not tried this popular chain before, so when I was invited along for lunch at its Harborne branch I'll admit I did jump at the chance; a quick peruse through the menu online and I already knew what I'd be plumping for. Situated on the high street, in a former bank building, the restaurant itself is as pretty as it gets – high ceilings and botanical décor provide a fresh and light backdrop – and there's even a spiral staircase and a giant cherry blossom wall mural. All very Insta-worthy.
The food is fairly authentic and the dishes do a good job at celebrating Southeast Asia's richness of natural ingredients. In fact co-founder Pranee Laurillard grew up in Thabo, on the banks of the Mekong River, and founded Giggling Squid with her husband Andy because together they wanted to bring the welcoming and informal buzz of Thai mealtimes to the UK.
We went for the lunch menu, which included the tapas, but you can also choose larger dishes from the all-day menu too, and there's plenty of options whether you're a vegan or a meat eater. I opted for the wholesome cashew stir fry with jasmine rice and veggie spring rolls from the Two Dish Meal Combi – a great idea for someone like me who gets frightened at the thought of huge plate. It's good value at £9.50 and very tasty too.
My partner chose the recommended signature dish Two Giggling Squid, which included a delicious chicken Massaman curry, the heartiest salt and pepper squid, Thai chicken wings and a portion of jasmine rice. Again, we couldn't complain about the £13.95 price tag. The lunch menu also offers mix and match tapas options as well as big dishes, including ruby noodles with beansprouts, Giggling Pad Thai, and a red or green curry.
While I may not be a big dish kind of girl, I'm certainly a pudding one, so the Sweet Heavens Above Trio was the obvious choice – the mini salted caramel soufflé, melting heart chocolate dessert and pineapple and coconut finger were all very moreish. Rather cheekily, we also worked our way through the four ice creams available – jasmine and toasted rice; black sesame; lychee yoghurt; and pineapple, coconut and Mekong sorbet. Maybe not everyone's cup of tea (our server did say it divides diners and my partner wasn't sold on it), but the sesame one was my favourite thing on the menu. I'll be returning to Giggling Squid even if it's just for another bowl!
You can check out the menu for the Harborne restaurant here.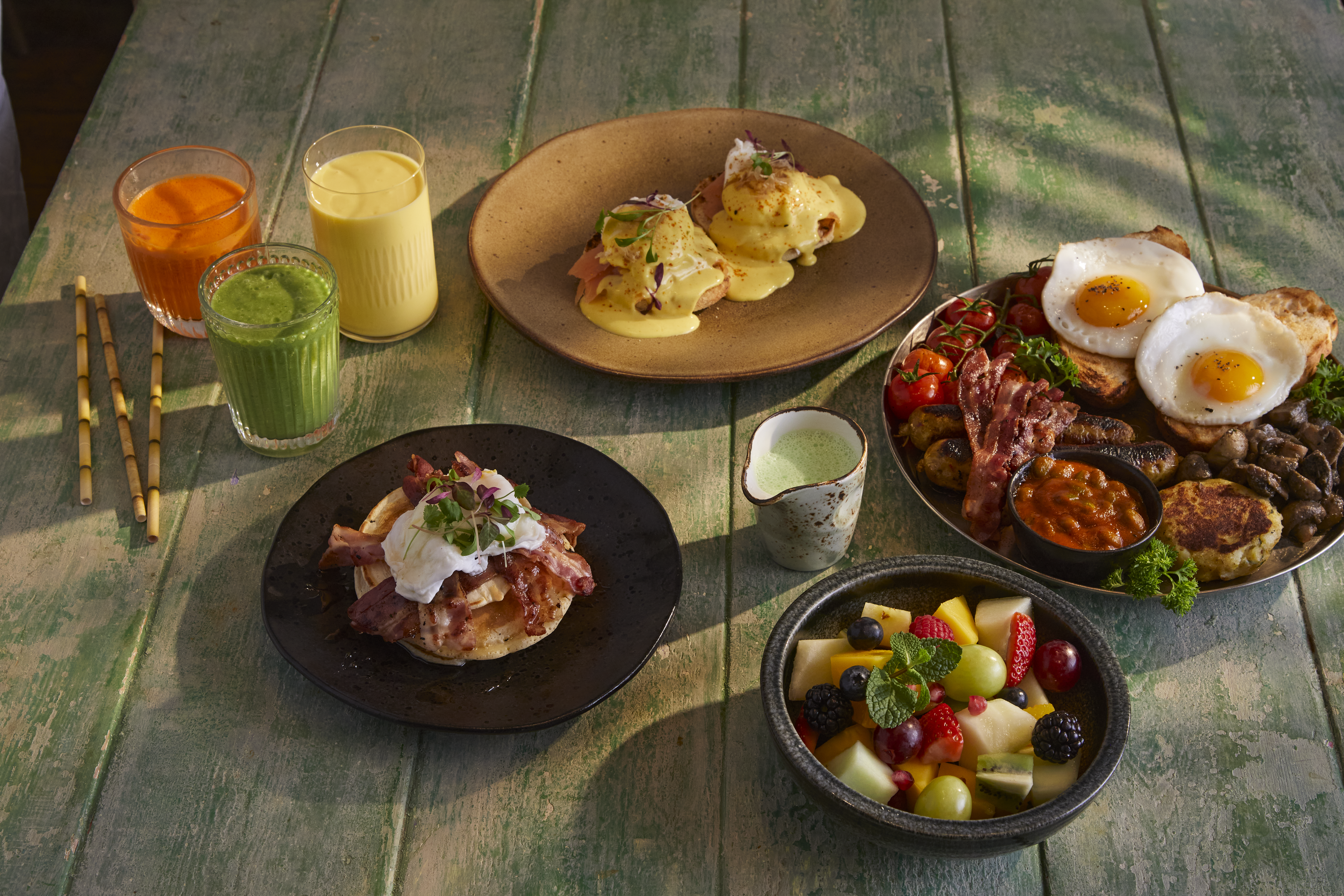 AND IF YOU FANCY BRUNCH WITH A THAI TWIST …
Giggling Squid's Mere Green restaurant has just launched its new breakfast menu, served daily from 9am through to midday. There's classics like coconut pancake stack with berries, overflowing skillets, and greens and beans omelette alongside exotic-sounding Thai specialities such as Giggler's Congee, with rice porridge, soft poached egg, pork meatballs, Thai garlic and fried twists of ginger, and a sweet-spiced Kuay Jab Noodle Broth.
Click here to see the new breakfast menu at Mere Green.